It's summertime. That time of year when families from around the world do the 'family vacation' thing; packing up the kids and travelling to a place far, far away. Or not so far away, doesn't really matter. What is important is making sure the kids are entertained and as any parent would admit, it's not the easiest task in the world. Keeping ourselves entertained is a far more achievable goal.
As for attractions around the city you're visiting, that's your mission, if you choose to accept it (or not). But what we can do to help is offer you some apartments meant for families, which means two main things: Space – keep those little legs running and the boundless energy burning. The second thing is a terrace, or yard, or garden – any roof-free open space that acts as a change of atmosphere.
So here are five incredible apartments ideal for families:
A lively, colorful and spacious-enough apartment for the kids to run around without bumping into furniture. Even better – keep the door to the terrace open at all times and let the kids take advantage of it.
The 'village' of Howth is in itself a paradise for kids; plenty of open spaces, parks and hiking routes, not to mention the picturesque harbor. It's a win-win for kids and adults alike.
Unique feature: Private outdoor terrace
3 bedrooms | 2 bathrooms | family of 7
This spacious apartment will grab any child's attention with its playful color scheme and perfect-for-sliding hardwood floors. The balcony will be an attraction of its own – ideal for mini-soccer games. If your kids are old enough, you can even set them free in the building's inner courtyard on the ground floor, a little haven for the little ones.
You've got the Belgian Comic Strip Center within walking distance and the Rue Neuve, where you can shop till you drop.
Unique feature: Spacious terrace with a view
2 bedrooms | 1 bathroom | family of 6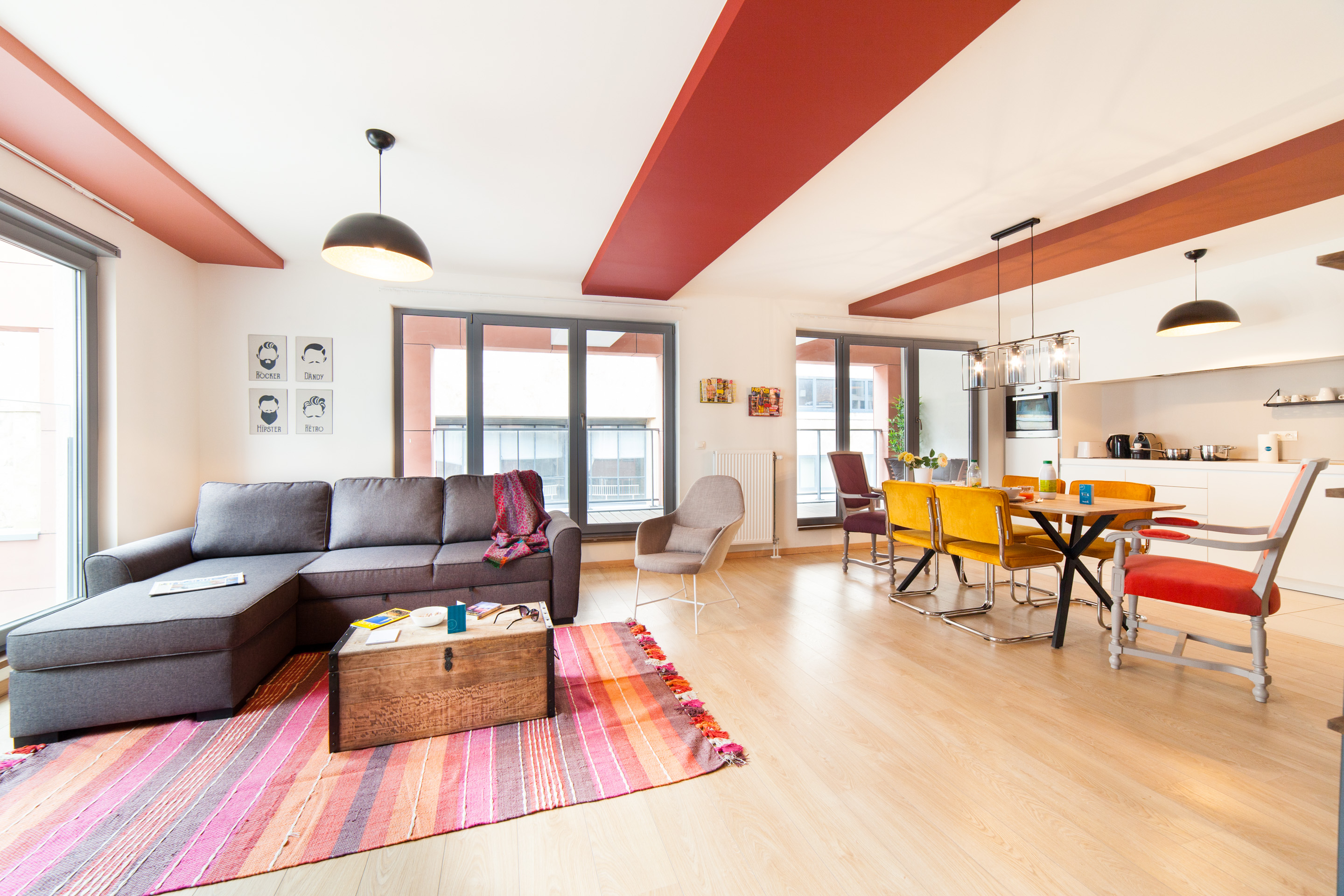 We have a great many good things to say about this apartment – the gorgeous tiled floor, the family-style dining table and a looooot of space in between, but wait till you see the garden on this one. It is huge, and very green. You can be on one end of it sipping cocktails and having cultured conversation while the kids will be on the other, doing whatever they want – you'll barely notice them.
Jerusalem is a wonder of a place, for all ages. Young and old alike, the sites, the atmosphere, the sounds and smells – no one can stay indifferent.
Unique feature: Green & private garden
3 bedrooms | 1 bathroom | family of 7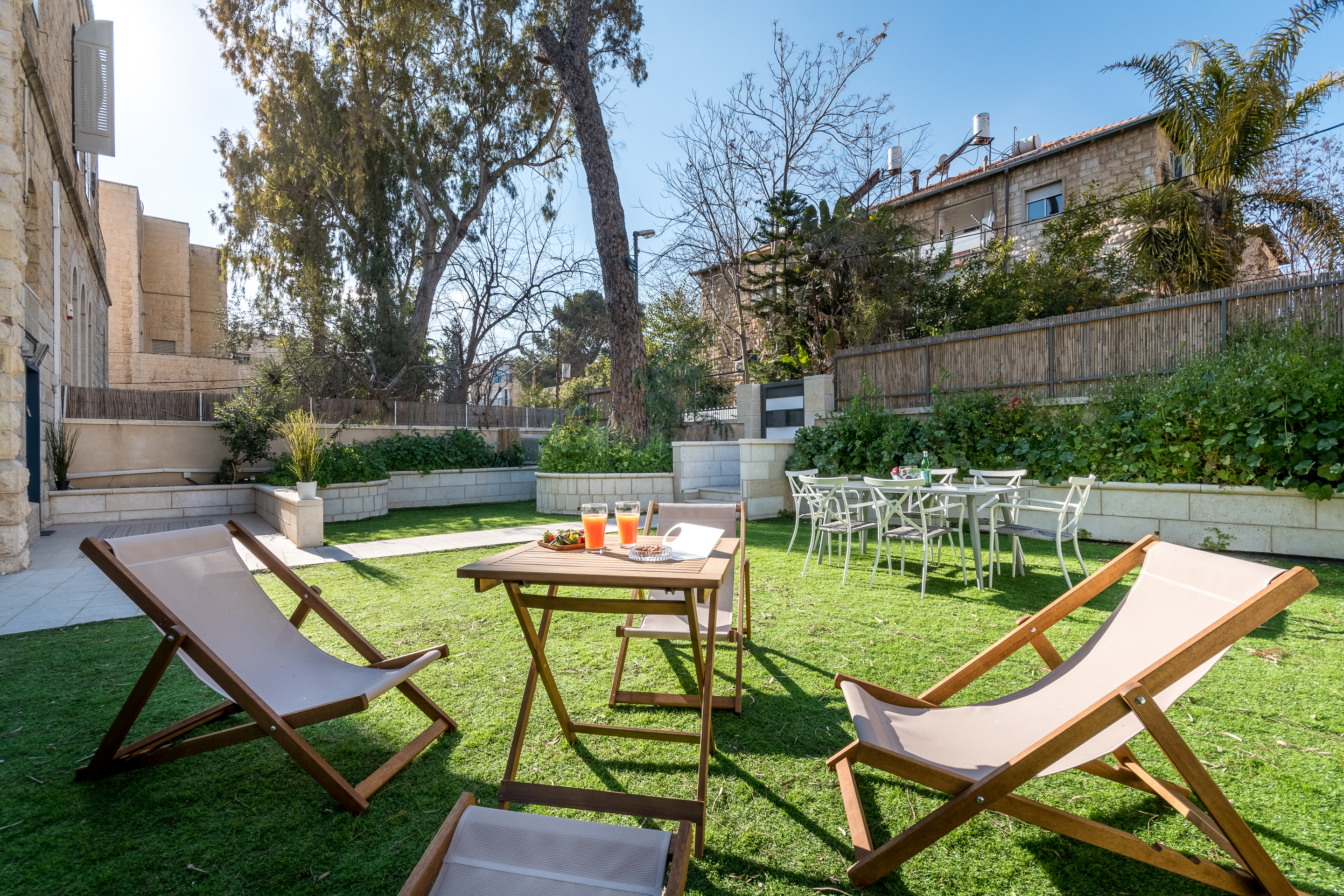 We say it is an apartment, but at more than 3200 square foot (300 square meters) it is more like a mansion in the middle of Paris. 10 people can stay here together, and very comfortably so. It is beautiful, stylish and fantastically designed. As per kids, they have their own, completely separated playground – inside the apartment. A full basement complete with a ping-pong table, darts and… a climbing wall! It's a dream come true for kids.
The apartment is located in the middle of the classic and elegant 3rd arrondissement. So if the kids are taking it too far, you can always tell them that if they won't start to behave, you'll take them to a 4-hour tour of Pompidou Center, it's really close by.
Unique feature: Basement with ping-pong table, darts & climbing wall
5 bedrooms | 3 bathrooms | (extended) family of 10
Large kitchen

Climbing wall

Ping-pong table
The kids will feel like they're in an Italian village, and so will you, even though you are in the middle of Rome. This apartment is so unique it would be a waste of words to try and describe it. Just click the link below and let your eyes do the work. And the garden, the garden… like it was taken from an Italian fairy tale (are there Italian fairy tales?) it is everything one can imagine when saying the word 'garden', preferably with an Italian accent.
The botanical gardens are just next door and plenty of bohemian galleries as well. Not the most kid-friendly activities, but while you enjoy these they can have the garden all to themselves.
Unique feature: Huge garden
2 bedrooms | 2 bathrooms | family of 6